The European Commission wants to increase spending on health more than 20-fold and to take a larger role in healthcare policy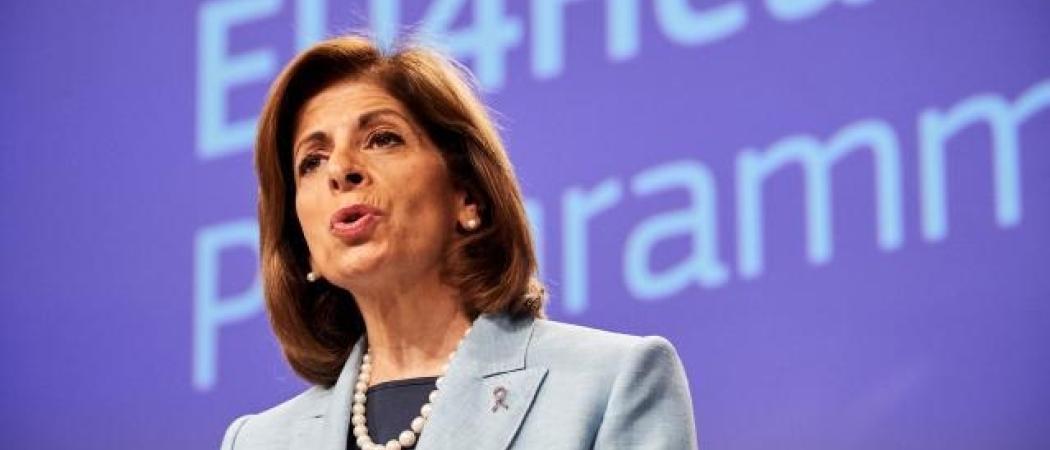 The European Commission on Thursday fleshed out plans to ratchet up health spending from €413 million in the current seven year budget to €9.4 billion in the next, enabling it to play an enlarged role in health policy coordination across the continent.
"This crisis made it clear: our capacity needs to be brought to a different level," said Stella Kyriakides, the EU's health commissioner. "We need more Europe in the area of public health."
The enlarged budget is part of a wider coronavirus recovery fund of almost €2 trillion the EU hopes to unleash in the coming years.
The new health investment is primarily targeted at helping the continent cope better in future crises, with money to maintain strategic stockpiles of medical equipment and a reserve of doctors on standby to be flown around the continent to where they're needed in a crisis.
"Never again do we want to see a situation where a health worker has to decide which patient receives lifesaving equipment," Kyriakides said. If hospitals become overburdened in the future, as some did during the crisis, "we should be able to step in with resources."
Kyriakides said some of the new investment would also be for updating hospital equipment, like cancer screening equipment. There would also be money to continue funding EU reference networks on rare diseases, along with new training and exchange programmes for medical and healthcare staff.
The commissioner also called for a "stronger role in surveillance" for the European Medicines Agency and the European Centre for Disease Prevention and Control.
Perhaps the most far-reaching idea is a proposal to audit member state preparedness and response arrangements, such as crisis management, antimicrobial resistance and vaccination, to ensure their effectiveness. The executive currently has a limited role in these activities.
The new health programme will not include funding for research, which will remain under the Horizon Europe programme, but it will "help to ensure best use of research results and facilitate the uptake, scale-up and deployment of health innovation."
As part of this EU step-up into the health arena, Brussels will also publish a new strategy later this year to encourage the production of critical drug materials in Europe, making the continent "medically independent" from China and India, where roughly 80 per cent of basic pharmaceutical components are sourced.
"We don't have enough production of active ingredients here," Kyriakides said. "We will encourage more in Europe. The problem was there before; it was just highlighted by COVID."
The EU is expected to offer inducements such as relaxed state aid and public procurement rules to entice manufacturers to bring production back to Europe.
When asked whether the EU risked stepping on member state toes with its new health proposals, commission vice president Margaritis Schinas quoted commission president Ursula von der Leyen, who has said treaty change is "no longer taboo".
Member states have in the past limited EU intervention in healthcare and most public health policy, and this is written into EU constitutional treaties.
Green reboot
Altogether around a quarter of the money in the EU's COVID-19 recovery fund should flow to green stimulus projects.
The cleantech sector has seen "a huge fall" during the crisis and needs a mighty lift, said Frans Timmermans, the EU's Green Deal chief.
A new financing vehicle, the Strategic Investment Facility, will invest in the clean energy technologies, such as renewable energy and energy storage, clean hydrogen, batteries, and carbon capture and storage.
"You need a reaction that's commensurate, and you need to do it quickly. We've seen a huge decline in investment in these sectors and we need to reboot them," Timmermans said. "The crisis has raised an existential crisis. We need to rebuild, but in a different direction."
The Green Deal is a pre-crisis plan to make Europe climate-neutral by 2050. One of the strongest areas to build on is hydrogen energy, the commissioner said. "We will be investing a lot in clean hydrogen. Europe leads this. We will stay world leaders if we invest now."
A new partnership involving governments, universities and scores of businesses, called the Clean Hydrogen Alliance and modelled on a similar initiative to boost suppliers in the battery industry, will start in the summer.
There will also be cash injections for carmakers working on new electric vehicles. "The auto industry is extremely important for Europe, it's an incredible amount of jobs. They're suffering and they need our support," said Timmermans.
The EU will also announce measures to install one million electric charging stations, "in rural areas where they're not economically viable. This is key for making the transition easier," Timmermans said.