Sesame, the region's only synchrotron, is well versed in upheaval, but the pandemic promises more pressure on a shoestring budget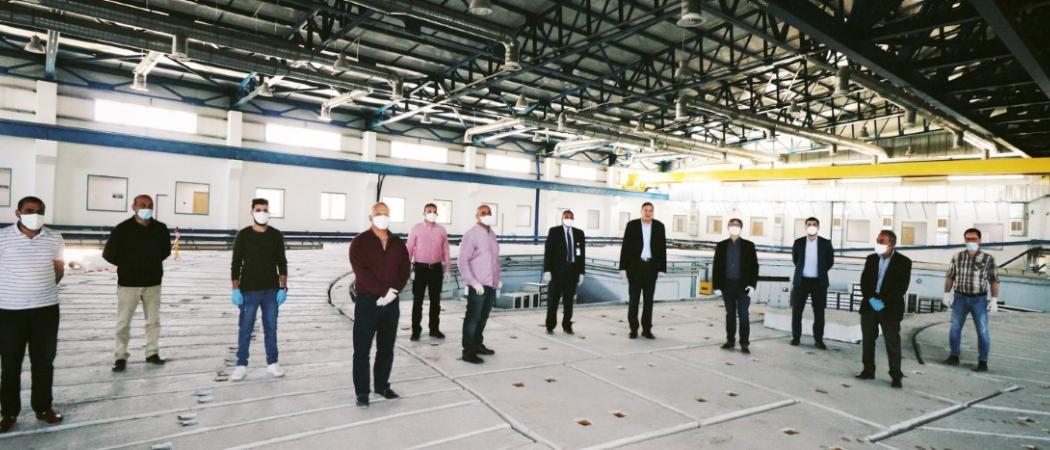 The severe economic shock of the pandemic is the latest and possibly sharpest test yet of the Sesame synchrotron's admirable survival skills.
The region's only high-energy physics lab is back in operation after a partial easing of the lockdown in Jordan, where it is based.
Sesame - Synchrotron-light for Experimental Science and Applications in the Middle East - is the first major international research centre in the region, run by physicists from an unlikely group of countries, some of which are in mutual conflict. Cyprus, Egypt, Iran, Israel, Jordan, Pakistan, Palestine and Turkey are the founder members.
After years of doubts about the project's feasibility, Sesame began operating in 2017. "There's been many times when a rational person would have given up," said Chris Llewellyn Smith, British physicist and former president of the Sesame council, the governing body of the facility.
The darker economic environment caused by the pandemic is just the latest challenge, he said, following years of walking a political and technical tightrope.
"It's always been very difficult – many of these [member] countries, you can't find their science budgets with a microscope. The funds involved in Sesame are huge for some of them."
Italian physicist Andrea Lausi took on the role of scientific director of Sesame in February, just before the pandemic hit. "Not being able to come in to the centre has been painful and it will be really strange and challenging for a while returning to work," said Lausi.
Twelve of the 60 scientist and technician staff are back at the facility, following a tentative reopening last month.
The crisis hits at a time where Sesame is trying to boost its research capacity with new beamlines of extremely high-energy light scientists use to capture hidden truths in everything from proteins to paintings.
Securing the facility's budget – a difficult task in the best of times – will require "scientists to bang their fists on politicians' tables," Llewellyn Smith said.
The struggle has always been there, said Eliezer Rabinovici, a theoretical physicist at the Hebrew University of Jerusalem and vice president of the Sesame council.
Beset by funding problems and engineering challenges from the very beginning, including a collapsed roof, the project has always had to fight long odds.
Money has arguably been a bigger problem than politics. "Our main problem is that we are working on a shoestring budget. It's a little disappointing that this is the situation. You'd imagine there would be more force coming to support us," Rabinovici said. 
"There have been so many ups and downs, so many upheavals. But the curve of Sesame is one that goes from existing as a dream, to something more," he said.
Scramble for cash
On paper, Sesame's members fund the facility with some $5.3 million. Difficulties in meeting this amount invariably lead to a scramble for cash.
Some of the founder members, including Turkey, Pakistan and Israel, pay a little over $900,000 a year for their Sesame membership. The "notional contribution" from Palestine is around $50,000 a year, said Llewellyn Smith.
The EU and the Italian government have been two of the main backers of the facility, which cost almost $100 million to build. The Italian Institute of Nuclear Physics recently funded a new guesthouse and meeting room for Sesame.
"We don't require so much," Rabinovici said. "We have sustained a miracle for over 20 years, to work together and achieve something real. No one I met in the early stages believed it could happen."
But at the same time he acknowledges that good science costs money.
The EU, partly through its big research programmes, has funded computing systems, beamline construction, training, and a new solar power plant to bypass Jordan's high electricity-grid costs – amounting to about €20 million since the idea to build Sesame was first floated at a CERN meeting in 1995. Germany, France, the UK, Switzerland and other official observer-nations have donated equipment, cash, researchers, or all three.
There's palpable disappointment that more rich countries have not come forward with money. "I would have expected other European countries [to put in money]," Rabinovici said.
The US has so far never authorised a cent for Sesame, much to the disappointment of scientists.
Legislation proposed by Rep. Bill Foster, an Illinois Democrat and a physicist, cleared its first hurdle when the US House of Representatives approved $10 million in US State Department funding for Sesame last year. "I saw first-hand that even when a country's politicians cannot get along, often their scientists do," Foster told his colleagues in a letter seeking their support.
The funding, which would have gone towards new lab equipment built in the US, didn't survive in the Congress' upper chamber, the Republican-controlled Senate.
The death of the US bill was a blow for the centre, though the Sesame council continues to court rich backers around the world.  
Scientists have met with several big-money foundations but have not yet secured any money. "One philanthropist told us the project was wholly bananas," Rabinovici said.
Meeting the devils
On paper, it certainly does seem a little crazy.
Originally formed through Unesco, Sesame brings together scientists from countries that would never normally meet.
Iran and Israel do not have diplomatic relations with each other and nor do Turkey and Cyprus. Iran has been unable to pay its share to Sesame for years because of international sanctions on banking.
Despite this discouraging backdrop, Llewellyn Smith talks about a transformation of attitudes once scientists and technicians meet face to face.
"People who are brought up to think the other side are devils soften when they actually meet the other side," said Llewellyn Smith, who is also a former director of CERN, which operates the Large Hadron Collider in Geneva. At Sesame's official opening, he handed over the presidency to Rolf-Dieter Heuer, also a previous director general of CERN.
"In the end it was deeply satisfying to sit with people who had been fighting each other," said Llewellyn Smith.
Sesame, which started life with second hand equipment donated from Germany, now has three top-notch beamlines, with more on the way.
"The cost of doing all this had been underestimated – probably a good thing, if it wasn't the countries wouldn't have funded it," said Llewellyn Smith.
Sesame is the first synchrotron in the world to be powered by renewable energy. "The electricity cost in Jordan is phenomenal – one of the highest in the world," said Llewellyn Smith. "So there was the fear of not being able to afford to run it. We told Brussels, we will be sustainable here if you help us build a solar power plant."
With the new plant, which came online in February 2019, the electric bill has fallen dramatically, with savings of over $100,000 a month. "Without that it really couldn't go on," said Llewellyn Smith.
The future of the facility is dear to the many scientists who worked hard to establish it. "We all realise it's a very small thing in the big picture of the region," said Rabinovici. "But we are offering a lighthouse near a stormy sea, where people find an alternative way to communicate, which is so needed in our region."
"Some of our members are declared enemies, but they work towards a common goal. It's something very emotional," Rabinovici said. "Politics rarely plays a role – sometimes it enters in via dinner, but it's mostly about building the machine and the science."
The no-politics rule leaves everything else untainted, scientists say. "Very simple – stick to the science," said Lausi.
Fighting perceptions
During lockdown, scientists held virtual meetings, and used the time to get papers ready for submitting to journals.
"The months of home working allowed [researchers] to do much more writing than would have been possible when the beams were on. Never waste a crisis I guess," said Lausi.
The use of the synchrotron  to uncover secrets in works of art or intricate artefacts, which before had to be flown to synchrotrons in Europe or elsewhere, incurring big insurance and travel costs, is developing into a core Sesame strength.   
"It would be a pity to miss the possibility to develop a [unique selling point] around cultural heritage. We're in the cradle of history here," said Lausi.
Projects at Sesame include a sift through Palestinian soil and water for signs of environmental contamination; an analysis of millennia-old bones, hair and teeth from Cyprus, Iran, Turkey and Syria; and an investigation of human remains from the ancient city of Petra, located about 250 kilometres away.
Synchrotrons the world over, including in South Korea and Taiwan, are currently being used in the fight against COVID-19.
"The beams are looking at proteins and how they behave, to get to know the enemy better," said Lausi.
Sesame doesn't yet have its beamline for protein crystallography installed, so it can't take part in COVID-related research. "We are missing the opportunity window on that one a little," Lausi said.
The Italian arrived in Jordan on a four-year secondment just before the pandemic struck, and is renting a house in Allan, near the facility. Most of his staff are in the capital, Amman, and are not yet allowed back to work. "Jordan has been extremely strict and cautious. It is forbidden to cross the border between the provinces.
"I arrived here and after two weeks of beginning to understand the place, found myself locked down," Lausi said. Before Sesame, he was in charge of the diffraction beamline at the Elettra synchrotron in Trieste, Italy.
Lausi fell in love with Sesame and Jordan after spending a week in the facility some years ago. "The impression I left with: this place is real. You don't feel anything different than you would if you were in Diamond [Light Source in the UK] or another lab. You feel at home."
Sesame is "very precious", he said, "and precious things are fragile."
Lausi says that he is always trying to convince scientists that Sesame stacks up with other big research labs in Europe and the US.
"I'm constantly fighting the perception that not a lot is happening here. It's very important for us to get people to understand that Sesame is working. It's not anymore a dream. Three beamlines are in, with more to come – so it's a real thing," he said. Seven beamlines are planned in the facility's first phase, and between 16 and 20 beamlines could go in later.
The pandemic is hammering public budgets, but Lausi believes the project will find a way to muddle on. 
"In the end, it can be done. This is the history of Sesame. There are so many people in the world willing to help – I receive continuous incoming messages of solidarity and support."
Five years ago, there was no electron storage ring or beamlines, he said. There was no roof for over a year either, when a freak snowstorm in 2013 caved it in.
"If my predecessor succeeded with all that was going on then, I definitely must not fail in taking it from here," Lausi said.
Parallel universe
In a region familiar with violence and extremism, "Sesame is a space to breathe," said Zehra Sayers, a molecular biophysicist from Turkey, who was chair of the Sesame scientific advisory committee between 2002 and 2018.
Sayers says the centre has already seen off tougher challenges than COVID-19. "It was hard to make but it's done, and working."
She remembers being sceptical when she first heard about Sesame and its plan to refit old donated machines.
"I thought it's going to be a second-hand facility and therefore I'd rather not have anything to do with it," she said. She was soon convinced, however, that it was the real deal, and capable of first-class research.
Sesame may yet inspire other parts of the world, with talk about creating a synchrotron light facility in Africa.
For now, the pandemic has put an unfortunate brake on the Sesame's progress, she said. "It was gathering speed," said Sayers. The first grant call for beam time received 55 applications from researchers, the second call 105 proposals. It is hoped that eventually the number of users will grow to 1,000 or more.
Sayers, who is on sabbatical in Germany, is waiting for research time at the centre. If lockdowns around the world are extended, meaning researchers can't travel to Jordan, mail-in samples may be an option for keeping research going, she said.
Over time, she believes Sesame can help reverse chronic brain drain from the region, but first the founder countries need to "own" the facility more.
"Some people in the region still think they have go Europe to find a synchrotron. Its use is not equally divided among members but I guess that will normalise over time," she said.
Sayers urges countries not to lose sight of the big picture. "I wish hope was a pandemic that could spread quickly to people. It's a centre for future generations, to show them that not everyone is thinking about war and fighting, and the differences that separate us," she said. "It can be done, even if it's difficult. It can be done."
Speaking to Sesame's uniqueness, Rabinovici said, "There's not many organisations in the region where an Israeli is accepted as a vice-president. My string theory friends are jealous that I get to visit a parallel universe."