The EU-Catalyst partnership aims to scale up and create markets for green technologies. The Commission hopes the partnership will serve as a template for similar initiatives around the world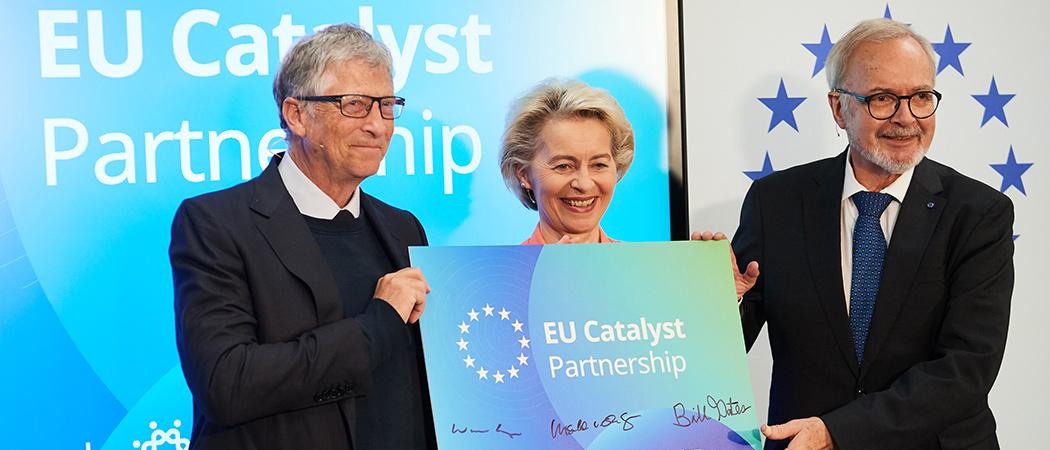 The European Commission and the European Investment Bank (EIB) are to join the Bill Gates Breakthrough Energy initiative, in a €820 million deal intended to put some impetus behind the scale-up of critical climate technologies developed in the EU and create markets for them.
The new EU-Catalyst partnership will enable the Commission, EIB and Breakthrough Energy to mobilise up to €820 million between 2022-2026 to accelerate the deployment and rapidly commercialise technologies that help the EU reduce carbon emissions by 55% by 2030.
"We will support the so-called Green Premium, that is the additional cost that companies face by taking the risk of deploying new technologies," EU president Ursula von der Leyen told delegates at the COP 26 conference in Glasgow on Tuesday.
Not all the money will come from the EU budget, EIB and Breakthrough Energy, as the three partners expect private investors and philanthropists to join the cause.
New green technologies that could cut EU emissions are ready for translation, but could take too long to reach the market without additional investments. New climate technologies are often expensive to produce and their markets are too small, posing particular problems for undercapitalised EU-based start-ups.
The EU aims to reduce the financial risk for companies by propping up their business models until they can be scaled up. Money will go into projects across four sectors of clean hydrogen, aviation fuels, carbon capture and energy storage.
The EIB will receive an EU budget guarantee from the Commission and, together with Breakthrough Energy, will provide equivalent amounts of investment in projects selected on a competitive basis.
Lowering the cost of transition
Breakthrough Energy, founded in 2015 by billionaire philanthropist Bill Gates, invests in companies that have the potential to speed up innovation in sustainable energy and other technologies that could help reduce CO2 emissions. So far, Gates said, the fund has raised over $2 billion and funded over 80 companies from 11 countries, across four continents.
Speaking at the COP 26 conference alongside Von der Leyen, Gates said additional investments are needed to scale up net zero innovations and to reduce the cost difference between current products and their green competitors. "The cost of transition must be low enough that the whole world can afford it," said Gates.
Von der Leyen said she hopes the Breakthrough fund will serve as a template for similar initiatives around the world. "I am especially glad that at this COP 26, finally, we prioritise the importance of innovation, because it's only through innovation that we're going to get to our goal of net zero," she said.
US president Joe Biden announced a similar initiative at COP26 on Tuesday, saying the US and the World Economic Forum will launch the First Movers Coalition, a group of two dozen of the world's largest and most innovative companies, including Apple, Boston Consulting Group, Volvo, and Fortescue Metals Group, which have committed to scaling up climate innovations.
Biden hopes these companies will help the US push for commercially viable ways to decarbonise industrial cities. "We recognise that our current technology alone won't get us where we need to be, so it must also be a decisive decade for innovation, developing, demonstrating and commercialising new clean energy technologies by 2030," he said.
The Biden administration has previously announced efforts aimed at quadrupling funding for clean energy research and development over the next four years.
The US has also announced a $4 billion global agriculture innovation mission together with United Arab Emirates and 75 other partners. "I invite all of you to join us, working to double the investment by the time we meet at COP 27," said Biden.